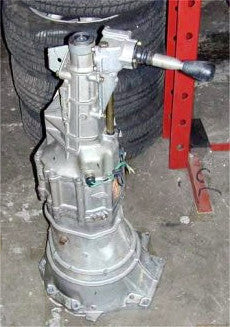 Advanced-Autosports
Transmission
We offer the most complete trans rebuild service around. We replace the entire internal shift linkage with all new Mazda parts, all new synchro rings, gaskets and seals. We offer old-world craftsmanship at off-shore prices. You will not believe how much difference the shift linkage makes. Even a 50,000 mile used transmission feels worn out. Advanced Autosports can make an old transmission shift like it just "rolled off" the show room floor.
Call the shop for pricing, details about our rebuilt transmissions or transmission questions 608-313-1230

Dave's Tech Tip's
Transmission and differential removal and replacement tips. First thing is to drain the fluid and disconnect the battery. The front of the PPF is straight forward. The rear most bolt on and the differential has a special nut on top that locks the differential in place. After removing the long bolt, reinstall it about 6 turns. Then hit the bolt upwards with a hammer. This will remove the special nut. Do not loose the special nuts, as they are not available separately. Advanced Autosports has had replacements made, just in case.

The forward bolt on the differential is just like the rear one, except it has a built-in shoulder. Remove the front bolt and use the rear bolt to drive out the special nut. The front bolt also has a lower bushing that must be removed. A chisel or pry bar will remove the bushing.

Now the PPF can be removed. Once the PPF is removed the trans will tilt back far enough to give access to all the Bell housing bolts. The big trick is to place a 2 x 4 between the steering rack and the engine. This will keep the trans tilted back during install.
Below is a list of all the parts that we replace in every re-build:
Drain Plug
Drain Plug Gasket
Interlock Pin x2
Shift Rod Interlock Pin
Front Snap Ring
Fork 1-2
Fork 3-4
Fork 5-R
Shift Rod 1-2
Shift Rod 3-4
Shift Rod 5-R
End, Shift Rod 1-2
End, Shift Rod 3-4
End, Shift Rod 5-R
Spring, Shift Rod 1-4 x2
Spring, Shift Rod Rev x2
Spring, Shift Rod End x3
Retaining Ring
Roll Pins x7
Detent Ball x5
Shifter Pin Bushing
Wave Washer x2
Upper Bushing
Upper Pivot Bushing
Lower Pivot Bushing
Lower Shifter Boot
Plastic Shift Bushing
Input Shaft Seal
Output Shaft Seal
Back-up Light Switch
Front Gasket
Syncros x6
Syncro Retaining Rings x6
---
Share this Product
---
More from this collection