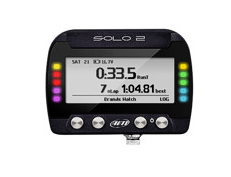 Advanced-Autosports
AIM Solo 2
High-speed GPS, internal accelerometers, expansive data logging memory, USB download, a waterproof design, a thoughtful feature set, and a retail price of $399 make for best motorsports lap timer ever made.
Predictive Lap Times
Arguably the best tool a driver can have for getting faster—predictive lap times. Chisel down those lap times and qualify better than you ever have before with the Solo 2's predictive lap timing. A constantly updating real-time display of your current lap pace. A time prediction resolved down to the hundredth of a second - and incredibly accurate. Optionally you can display a real-time +/- from your best lap time.
It's a Data Logger
The Solo 2 records your lap times along with speed, track position, lateral g-forces, linear g-forces, yaw rate, heading, slope, satellite reception, and battery voltage. Each channel recorded at a frequency of 10-times per second (10 Hz). All tests are stored with a time and date stamp for on-screen review or PC download for further analysis. Download your Solo data to the included full version of RaceStudio2, our professional data analysis software.
Lap Data Review at Your Fingertips
Hit the Solo 2's memory button when your session is over and up pops your best three lap times, along with session data of duration and distance. Hit MEM again and you get a full list of your lap times along with max straight speed and minimum corner speed for each lap. A third data review page shows a histogram view of your lap times where you can identify patterns of driving or the tires coming in - or going away.
---
Share this Product
---
More from this collection